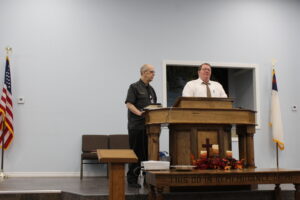 I have had a relationship with Pastor Paul Pullen of Live Oak Baptist Church in Cove Arkansas for many years now.
Pastor Pullen has been the Pastor at Live Oak Baptist Church since April.
Brother Paul called me up and asked if I would like to preach and present the ministry at Live Oak Baptist Church. I accepted the offer.
Maureen and I traveled up to Cove Arkansas, and spent the night in their prophet's chamber. Sunday morning, November 13, 2022, I preached the morning service, followed by a fellowship meal, and then presented our ministry.
While we were up there, Pastor Paul and I talked about putting a website back up for Live Oak Baptist Church.
Brother Pullen decided on a domain name (liveoakofcove.com) and I set up a website for the church using WordPress. Pastor Pullen will be updating the website going forward.
The post Live Oak Baptist Church, Cove Arkansas appeared first on Missionaries to Cyberspace.
Source: Cyber-Missions Blog
Pastor Paul Pullen and Bob Hoffman I have had a relationship with Pastor Paul Pullen of Live Oak Baptist Church in Cove Arkansas for many years now. Pastor Pullen has been the Pastor at Live Oak Baptist Church since April. Brother Paul called me up and asked if I would…